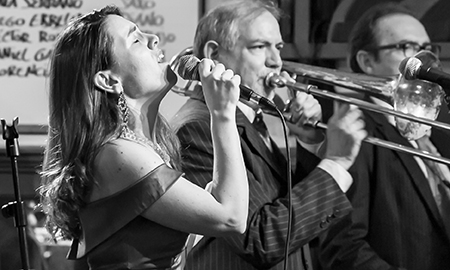 SPECIAL 2019 NEW YEAR'S EVE PARTY
There will be a special New Year's Eve party on December 31. Celebrate the New Year with special performances by:
NORMAN HOGUE SEXTET
Norman Hogue.- trombone
Rafa Serrano.- tenor saxophone
Raspa García.- piano
Héctor Olivera.- double bass
Tony Jurado.- drums
Florencia Bègue.- vocals
We will welcome you with a free cocktail. The concert will begin at 10:45 PM, but doors will open at 9:00 PM for a special New Year's Eve dinner with a set menu.
We will ring in the New Year at midnight from the stage, as we toast with a glass of champagne and the traditional 12 grapes alongside the musicians.
Ticket prices for the concert:
Special admission: €35
General admission: €30
Reduced admission: €28
The special New Year's Eve set menu is optional. Assorted appetizers. First course: consommé with sherry. Second course: turkey with hasselback potatoes and vegetables or sea bass en papillote. Assorted desserts, wine glass of champagne and traditional 12 grapes at midnight.
Visit our website to purchase your tickets:
Or call us at +34 913694143
(6:00 PM to 8:00 PM, every day of the week)
Thank you for supporting live music