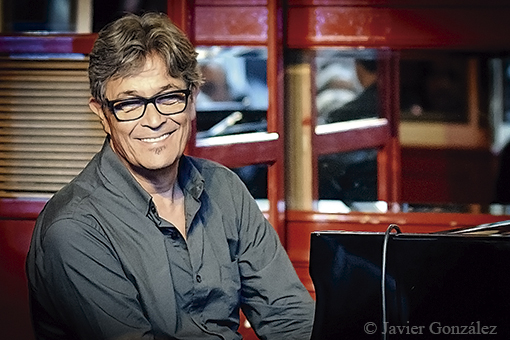 From August 13 through September 9, Chano Domínguez will mark 40 years on stages, and his is celebrating this milestone alongside Café Central's 36th anniversary with a month of concerts. The unique works of this pianist from Cádiz are defined by his dazzling way of authentically integrating traditional flamenco and jazz. Throughout his career, he has collaborated with a wide array of musicians such as Paco de Lucía, Enrique Morente, Jorge Pardo, Carles Benavent, Martirio, Wynton Marsalis, Jerry González, Paquito D'Rivera, Jack DeJohnette, Herbie Hancock, Michel Camino and Chucho Valdés. On this occasion, Chano has prepared a journey through his repertoire for Madrid's audiences. Although this is a challenging feat, he has worked hard to define this evolution, resulting in his latest project. Chano begins this concert series with a PIANO SOLO. His first contact with this instrument was at the age of 12, when he was a member of his church choir and would secretly play the old organ. Upon reaching legal age, his first group, CAI, became a reality, and together they recorded three albums with the label CBS to become one of the best examples of the Andalusian rock musical movement. Chano became increasingly closer to jazz.
In 1992, he formed the CHANO DOMÍNGUEZ TRIO. He came up with the idea of combining the beats of flamenco, alegrías, soleás and bulerías with the musical shapes of jazz. In 2006, Chano created NEW FLAMENCO SOUND, a bigger project based on his sextet for the film Calle 54. Backed by the labels Verve and Universal, he released the album NFS. This marked a step beyond any musical concept in our country, positioning Chano at the top of the international music scene.
With his CUARTETO FLAMENCO, Chano also explored classical Spanish composers, such as Falla, Albéniz, Granados and Mompou, infusing his performances with a deep understanding of great flamenco traditions and recording the album Piano Ibérico. He earned his fourth Grammy nomination in 2016, this time for his album Bendito.
In 2017, he joined a wind instrument chamber quintet to create a new show titled Puro de Oliva and created SPANISH BRASS, a project created following a meeting in Seattle (U.S.A.), where Chano attended one of the quintet's concerts and the necessary magic arose. Chano currently lives in New York City, where Sunnyside Records recently released his latest album, Chano & Colina, with Javier Colina. His current project, NEW QUARTET, alongside a team of Israeli musicians, keeps a balance between jazz and world. The beats and traditions of their homes have resulted in expressive and moving compositions and performances.
August 13 to September 9 – A month of concerts
CHANO DOMÍNGUEZ – 40 YEARS ON STAGES
August 13 & 14
PIANO SOLO
Chano Domínguez – piano
General admission €18 Reduced admission €14
August 15-19
NEW FLAMENCO SOUND
Chano Domínguez – piano, keyboards
Jordi Bonell – guitar
Ernesto Aurignac – saxophone
Pep Perez Cucurella – bass
David Gómez – drums
General admission €20 Reduced admission €15
August 20-26
CUARTETO FLAMENCO
Chano Domínguez – piano
Blas Córdoba – "cantaor"
Daniel Navarro – "bailaor"
"Bandolero" – percussion
General admission €20 Reduced admission €15
August 27 to September 2
CHANO DOMÍNGUEZ TRIO
Chano Domínguez – piano
Javier Colina – double bass
Michael Olivera – drums
General admission €20 Reduced admission €15
September 3-5
SPANISH BRASS
Chano Domínguez – piano
Carlos Benetò Grau – trumpet
Juanjo Serna Salvador – trumpet
Manolo Perez – French horn
Indalecio Bonet Manrique – trombone
Sergio Finca Quirós – tuba
Pablo Domínguez – percussion
General admission €20 Reduced admission €15
September 6-9
NEW QUARTET
Chano Domínguez – piano
Hadar Noiberg – flute
Noam Wiesenberg – double bass
Amir Bar Akiva – drums
General admission €20 Reduced admission €15