Every night mixing music and life in the heart of Madrid
40 years of respect for quality music
EVERY NIGHT AT 8 p.m. AND 10 p.m.
Javier Sánchez – guitar
Raúl Márquez – violin
Art Záldivar – guitar, vocal
Gerardo Ramos – double bass
MENIL is one of the most original and exciting projects in Spanish popular music in recent years. The project, born with the purpose of spreading gipsy-jazz or jazz-manouche, presents a new way of swing, capable of thrilling and vibrating the general public.
MENIL takes its name from the MÉNILMONTANT district of Paris, located at the top of the capital, which in the 1930s welcomed Reinhardt, Grappelli and many artists such as Edith Piaf, Maurice Chevalier… who filled the streets, theaters and "cafés-concert" with their art and inspired the nights of the most bohemian place in the city. His language full of nuances, his virtuosity and his original interpretation: close and popular swing, made with and from the heart.
PERICO SAMBEAT FLAMENCO QUINTET
Perico Sambeat – sax
Albert Sanz – piano
Miquel Alverez – bass
Sergio Martínez – percussion
Tico Porcar – drums
The quintet's repertoire revolves around Patxi Pascual's compositions close to the most contemporary jazz with touches of world music.
The audience will enjoy music in which improvisation and nuances of interpretation will create an ideal atmosphere to enjoy a special concert.
To highlight the incorporation of singer María Zerpa, who is destined to become an indispensable artist in the national jazz scene.
MARINA LLEDÓ & JURANDIR SANTANA
Marina LLedó – vocals
Jurandir Santana – guitar
Santi Greco – bass
Brazilian and Latin American roots that a Spanish woman, Marina Lledó, has developed as a composer, arranger and performer, surrounded by the inevitable influences of jazz. On this occasion he joins forces with Jurandir Santana, a Bahian guitarist born in Salvador. Instrumentalist, composer and musical director, who has dedicated his 25 years of musical career to the interpretation, research and dissemination of Brazilian music and with Santi Greco, outstanding Argentine bassist who as an instrumentalist has collaborated in projects of musicians like Giovanni Hidalgo, Jerry González, David Murray, Antonio Serrano, Perico Sambeat, Bobby Martínez, Pepe Rivero… A tour from the center of Madrid through Brazil and its melodies that incorporates original compositions by Marina Lledó.
Pedro Ojesto – piano
Eleazar Cerreduela – cante
Joni Jiménez – flamenco guitar
José Miguel Garzón – double bass
Antonio Losada – drums
Flamenco Jazz Company is a project with more than eleven years of experience led by pianist Pedro Ojesto, with four CD's in his career. The last one was "Km0", presented at the end of 2019, just before pandemic, which truncated the concert tour to present this work. And since then, due to the resulting crisis, the tendency has been the proliferation of reduced formats, duos, trios, and at most quartets, but FJC is a project that cannot be adapted to a formation smaller than a quintet. So now it is time for him to return to the stage, in search of new projects.
At this moment we can hear a new step in the path of development that flamenco is living today, influenced by all the musics that today converge in that global space that jazz has established universally as a platform for the interaction of different popular cultures of different origins. FJC develops a language from flamenco, valid for these two cultures, maintaining the keys of its roots and the development towards the modernity of these two languages, which we could call "Jazz Hondo". Its language can be conceptualized as eclectic and minimalist..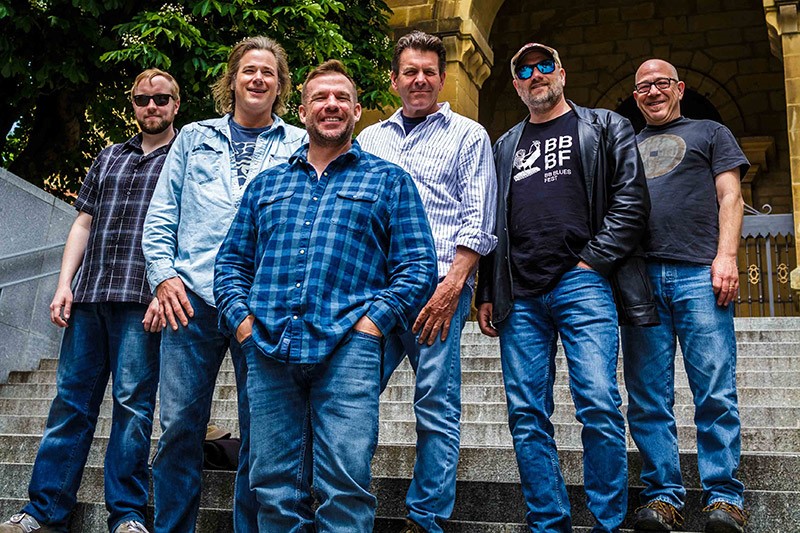 Chris O'Leary – harmonica, vocals
Peter Camey Hopkinson – guitar
Brooks Milgate – keyborads
Andy Stahl – sax
Pete Kanaras – bass
Owen Eichensehr – drums
Chris' musical experience includes duties as lead singer and bandleader of rock and roll hall of famer and Grammy Award winner Levon Helm's band, The Barnburners. During the 6 years that Chris and Levon played together, they toured the U.S. and Canada lighting up stages wherever they went. Chris has appeared on stage with: legendary Rolling Stones sideman Bobby Keys, The Fabulous Thunderbirds, Jimmy Vivino, Jeff Healy, Dan Akroyd, Albert Lee, Dave Edmunds, Dave Maxwell and the great James Cotton, just to name a few. Chris has also recorded with Bill Perry and Hubert Sumlin, among others.
STEEN RASMUSSEN QUINTETO FEAT. LEO MINAX
Leo Minax – vocals, guitar
Steen Rasmussen – piano
Lis Wessberg – trombone
Bastian Sjelberg – double bass
Mads Michelsen – percussion
Jonas Johansen – drums
Steen Rasmussen Quintet has established itself as one of the best jazz groups, Brazilian-inspired, with a personal touch and great confidence, consisting of some of the best artists in Denmark. His music is contemporary, and his unique rhythmic and harmonic style has been called
"Brazilian / Nordic / jazz as you thought you knew it."
For 10 years, the Quintet has been performing at the Central. On this occasion, Brazilian singer, guitarist and composer Leo Minax will once again share the stage with his dear friend Steen.
Leo Minax & Steen Rasmussen Quintet have toured Europe and South America together. They have recorded two albums together – Lo Mejor de Cada Casa and Presença. Lo Mejor de Cada Casa was in 2013 nominated for a Danish Grammy in the category "Special Release of the year".Presença, in 2016, was nominated for the Danish CARL PRIZE songwriter award in the category Best Album of the year.
"Best Jazz Album of the Year"
ALBA SANTOS & A NOSSA BOSSA
Alba Santos – vocals
Diego Ebbeler – piano
Manuel Sanz – bass
José San Martín – drums
The project was born from the impetus of the singer Alba Santos to share her musical and life experiences after eleven years in Brazil through arrangements and interpretations of the works of great composers such as Tom Jobim, Gilberto Gil, João Bosco, Vinicius de Moraes, Baden Powell, Carlos Lyra… thus bringing the Spanish public closer to Brazilian popular music through a selected collector's repertoire. "To return to weave melodies that were embroidered by great masters during the decade of the 60's that drank from the studies of Bach, Chopin and the entire European classical scholarly school but that in turn were inevitably steeped in the root and Afro-Brazilian music that resounded loudly through the favelas of the city. Feel the influence of jazz, and the intimacy of an almost whispered poetry, as well as the counter-tempos that will make us sway our bodies from one side to the other to the rhythm of swing and tamborim".
MINGO, SANPA & BÁREZ BROS.
Mingo Balaguer – vocal, harmonica
Pablo Sanpa – guitar
Sergio Bárez – bass
Pablo Bárez – drums
On June 5 of this year they returned victorious from the 10th edition of the European Blues Challenge (2022), held in Malmö (Sweden), where they won third prize in a competition in which 23 European blues groups represented their respective countries. If their participation in the event was limited to 4 songs in a maximum of 20 minutes, imagine what they can do in a complete "show".
Mingo, Sanpa & Bárez Brothers unites two generations of the blues in this country. The mix of these great musicians is explosive!!!! Their energetic live show will not let your feet stand still.
LEO SIDRAN & THE GROOVY FRENCH BAND
Leo Sidran – guitar, vocals
Max Darmon – bass
Romain Bouiges – drums
Paul Sany – piano
Sidran began writing songs professionally while still a teenager, when the Steve Miller Band recorded four of his songs on their album Wide River (1993). Around the same time, he began playing regularly as a drummer with his father, the renowned and versatile jazz musician Ben Sidran. His albums L. Sid and Bohemia explored bilingual songwriting and led him to collaborate with session musicians in both the United States and Spain. His 2014 release Mucho Leo was a project in which Leo recorded all the instruments and vocals. The album gained many admirers and repercussion in France, where the song Speak To Me In Spanish made the radio charts and helped Leo to be invited to perform at the renowned Olympia hall in Paris. The following year he released Entre Chien Et Loup, a live recording made in France with his newly formed Groovy French Band. Leo is the host and producer of the popular podcast The Third Story in which he hosts interviews with musicians, producers, songwriters and others. All these experiences – producer, composer, session musician and performer – come together in his recent work Cool School. [The Music of Michael Franks], in which he explores the singer's songs and in which he included an original composition in tribute to Franks as a duet with his friend and collaborator Jorge Drexler entitled Easy.
In 2021 Leo Sidran published The Art Of Conversation, which keeps intact his personal stamp as a composer and performer who from the strict respect for the best jazz tradition explores other territories such as Pop or Bossa Nova.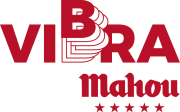 Bobby Martinez – sax
Carlos Rossi – trumpet
Nacho Fernández – guitar
Dario Guibert – double bass
César de Frías – drums
Born into a Cuban family exiled to the United States, he began playing the saxophone at the age of 6 under the guidance of Rolando Lluís. At the age of 11, he was hired by the Venezuelan presenter Amador Bendayán, thus beginning his career as a professional musician. Four years later he went to Miami Dade Community College to study with John Georgini. During this period he was part of the Miami Sound Machine with the famous Gloria Estefan, as well as participating in other bands such as Paragon, Secret Society or Willy Chirino. After completing his training in Miami, he perfected his studies in New York with maestro Eddie Daniels. He has shared the stage with figures such as Paquito D'Rivera, Richie Cole, Pat Metheny, Paco de Lucia, Julio Iglesias, Joe Williams, Perico Sambeat, Chris Kase, Pepe Rivero, Miguel Ríos, Ana Belén, etc.
His new quintet offers a renewed repertoire with entirely original songs, in which the jazz tradition is enriched with elements of other more modern trends, always keeping alive the essence of this great musician. and, especially, to the creators of our families, pioneers and fighters in the world of art, stage and literature.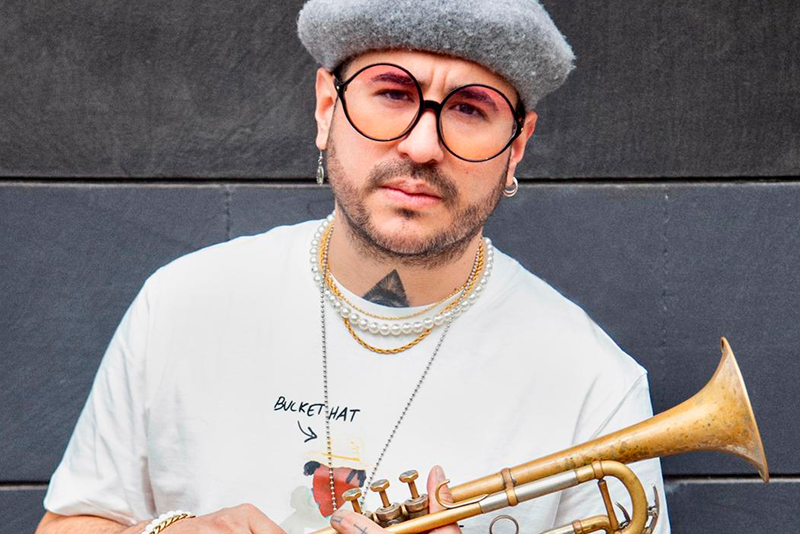 Chipi Chacón – trumpet, vocals
Alberto Martín – piano
Yrvis Méndez – bass
Johnny Gómez – drums, percussion
Chipi Chacón is a Venezuelan trumpeter, singer-songwriter, arranger and producer, currently ranked as one of the young Latin American musicians with more international projection, recognized by the greatest masters of the music world for his great versatility, managing perfectly in different musical styles such as Classical, Jazz and Latin music. Chipi was trained as a trumpet player in Venezuela, within the ranks of the musical education project El Sistema. For 15 years he belonged to the Simón Bolívar Symphony Orchestra, under the baton of maestro Gustavo Dudamel, performing in more than 50 countries, in the most important theaters and festivals in the world. He has worked with maestros such as: Bob Mintzer, Simon Rattle, James Morrinson, Claudio Abbado, Luis Perdomo, Cheo Feliciano, Edy Martínez, Harry Sokal, Óscar De León, Nicholas Folmer, Kzysztof Penderecki, Gerardo Chacón, Thomas Gansch, Alain Pérez, Ademir Junior, Gerry Weill, John Williams, among others. Chipi currently has five recordings as a soloist. In the IX edition of the PEPSI MUSIC Awards (2021) his album "PAST" was awarded as Best Jazz Album of the Year.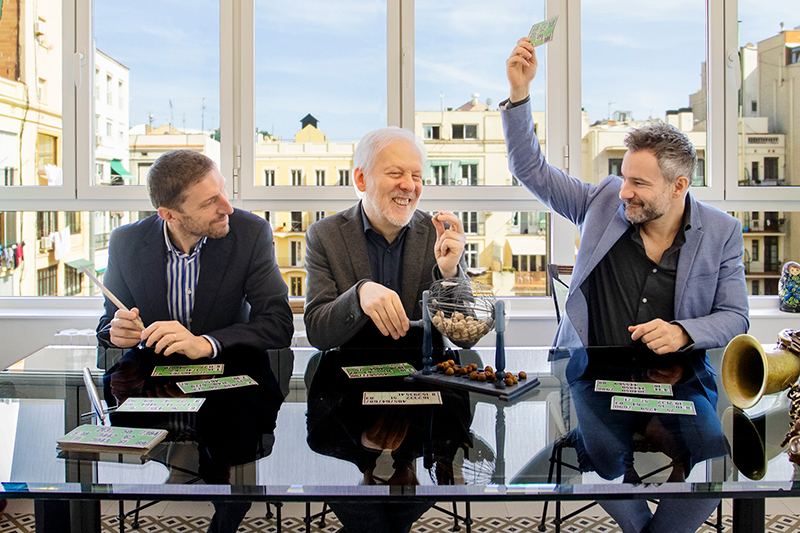 Ignasi Terraza – piano
Adrian Cunningham – sax, clarinet, flute
Esteve Pi – drums
Ignasi Terraza returns with a new trio album under his arm. And no, we have not forgotten to announce the double bass player, but it is precisely the absence of this instrument that Terraza explores in this work, with Andrian Cunningham and Esteve Pi and with the background of historical formations such as Lester Young with Nat King Cole, Bill Pierce with Hank Jones and Benny Goodman with Teddy Wilson. The pianist from Barcelona, one of the most internationally renowned European jazz players, combines his extraordinary technique, his powerful left hand, the exquisite sensitivity and swing he possesses with another jazz great: Adrian Cunningham. Born in Australia, saxophonist Cunningham lives in New York and has had a career with such luminaries as Wycliffe Gordon and Wynton Marsalis. The third vertex is the drummer Esteve Pi, a regular in Ignasi Terraza's and Andrea Motis' bands, among others. A new trio by Ignasi Terraza, an unusual trio to enjoy a jazz session of the highest level. Have no doubt about it.
MOMENTOS ALHAMBRA PRESENTA: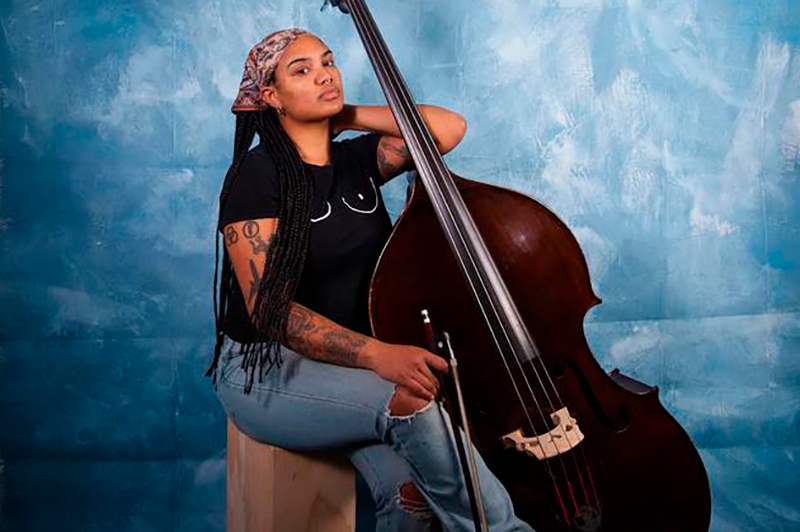 Tonina es una cantante, compositora, bajista, periodista musical y poeta de St.Tonina is a singer, songwriter, bassist, music journalist and poet from St. Louis, Missouri. He is a member of the St. Louis, Missouri-based group, which performs original music along with versions of great classics in Spanish, English and Italian. Tonina comes from a family of music lovers that exposed her to many musical styles, from funk, soul and jazz to classical music. He grew up in St. Louis. She was born in St. Louis, Missouri of African-American origin on the one hand, and Sicilian on the other. His sense of rhythm, melody and his extraordinary voice and interpretation of classic boleros and coplas, make his performances a thrilling experience for all listeners. Tonina has been named one of NPR's top ten favorite artists of 2018. His rendition of Story of a Love was included in former President Barack Obama's 2018 Top Songs list. In 2019, he signed with the U.S. record label Empire. Since then, the rising career of the young Tonina is unstoppable at international level and accumulates accolades wherever she performs with her musical training.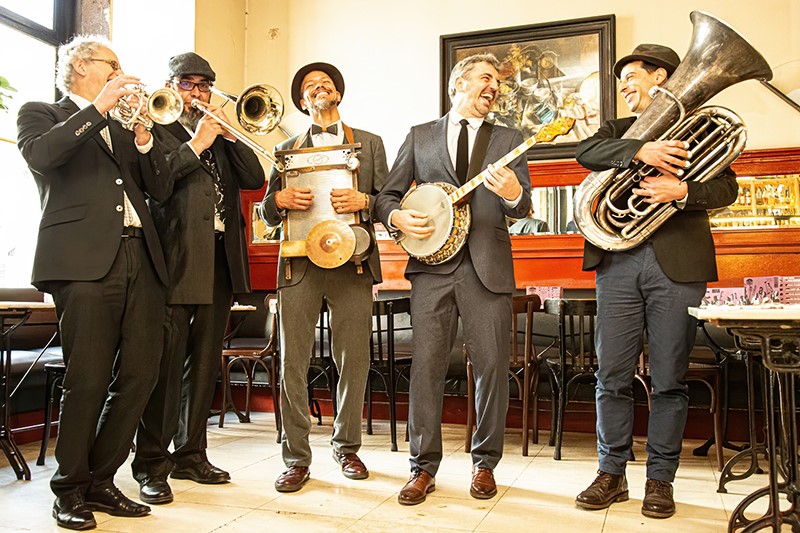 Mario Siles – vocals, banjo
David Herrington – trumpet
Luis Zenner – trombone
Víctor Correa – tuba
Andrés Freites – washboard
Barba Dixie Band takes us back to the golden age of jazz in New Orleans in the early 20th century. With original instrumentation of the style, they play a wide variety of classic songs from the repertoire of the time. From energetic syncopated passacaglia that enlivened carnivals on Bourbon Street, to deep-rooted blues from Louisiana where the steamboats sailed.
Francisco Simón – guitar
Luis Regidor – vocals, guitar
Manuel Bagüés – bass
Carlos Sánchez – drums
Red House starts a new decade (we hope it will be Happy 20), full of new projects, illusion and changes.
With more than 20 years behind them, Red House renews itself, RENACE with a new logo, new songs, new repertoire and a new voice that will accompany the new Red House Revival band, led by Francisco Simón and his guitar.
Red House Revival will continue to surprise us with the freshness, energy and quality of their live performances, now more than ever!
October 31, November 1 and 2
ADRIÁN COSTA & VÍCTOR PUERTAS BLUES BAND
Adrián Costa – guitar, vocals
Víctor Puertas – keyboards, harmonica, vocals
David Salvador – double bass
Coke Santos – drums
Adrián Costa, one of the most valued representatives of the national blues, joins harmonica player and pianist Víctor Puertas to present, for the first time at Central, a genuine 50's blues project. From the West Coast sound like T-Bone Walker, they will go through Chicago to plug their harmonica to a 5 watt amp like Little Walter, to finish acoustic in the rural Mississippi style of Sonny Terry, always keeping New Orleans in mind. A very entertaining, elegant and attractive concert for blues lovers.
OUR PREVIOUS PROGRAMMING: