Every night mixing music and life in the heart of Madrid
EVERY NIGHT AT 8:00 PM AND 10:00 PM
A CANTE & PIANO
FLAMENCO JAZZ
Naike Ponce – cante
Alex Conde – piano
Miquel Álvarez – double bass
Bandolero – percussion
The singer Montse Cortés is unable to join us on these dates, Naike Ponce will perform in her place, sorry for the inconvenience.
In this mestizaje, in addition to the Valencian pianist Alex Conde, who has developed his career in New York, and the also Valencian Miguel Álvarez, a young double bass player with a great projection, we will be able to enjoy the roots rhythm of Bandolero, from Madrid's Lavapiés district.
From the crossbreeding, in the moments when the musics meet, we will listen to the most traditional flamenco singing together with the rhythms and structures of jazz classics.
Alberto Arteta – sax
Íñigo Ruiz de Gordejuela – piano
Javier Callén – double bass
Borja Barrueta – drums
The idea behind MOVE suggests two concrete concepts. On the one hand, to shape musical material that pushes forward into the avant-garde of contemporary popular music, without neglecting a passion for the tradition of jazz and other music. In this sense, the repertoire is made up of themes composed and arranged to be performed, a priori, by the members of this quartet. On the other hand, to humbly try to create something capable of sensitising the listener and to transcend, in a certain way, the unipersonal. Both concepts fit the definition of the word Move.
Karla Silva – piano, vocals
Richie Ferrer – double bass
Miquel Asensio – drums
Special Guest:
Israel Sandoval – guitar (day 29)
Karla Silva is a Venezuelan singer, pianist and composer based in Spain. With his voice and piano as one instrument, he will perform his original jazz, bossa and soul compositions, as well as jazz standards, along with Richie Ferrer on double bass and Miquel Asensio on drums.
ILE HERNÁNDEZ & HAROLD REY QUARTET
Ile Hernández – vocals
Harold Rey – piano
Iván Ruiz – double bass
Chipi Chacón – trumpet
Johnny Gómez – drums, percussion
They pay tribute to the indispensable voices of jazz, brought to different Cuban genres through the vocal cords of the exceptional voice of national jazz: Ile Hernández and under the direction of Cuban pianist, producer and arranger Harold Rey.
Lucas de Mulder – guitar
Chip Wickham – flute, sax
Enrique Blanco – Hammond
Santi "Sweetfingers"– bass
Antonio Pax – drums
Special guest:
Mayka Edjole – vocals
Lucas de Mulder is a guitarist and composer based in Madrid who loves instrumental music. Especially attracted by funk, soul and jazz, he quickly finds his sound to carry out his compositions, which form a varied and very entertaining musical cocktail. Entre sus influencias, que son muy variadas, destacan guitarristas como Grant Green, Ernest Ranglin, Boogaloo Joe Jones, Gabor Szabo, y bandas como The Meters, The New Mastersounds, Soulive, The Greyboy Allstars, Menahan Street Band y Khruangbin, entre otros. For the occasion, Lucas De Mulder will bring us a repertoire where he will play compositions from his latest album "Feel The Spirit" produced by Eddie Roberts, guitarist of The New Mastersounds and founder of the record label Color Red based in Denver (USA) and a set with vocals with the great Mayka Edjole as special guest. In addition, he will be accompanied by musicians with a great trajectory in black music groups such as The Sweet Vandals, Speak Low, Beat Bronco, Matthew Halsall's Gondwana Orchestra and Martha High among others.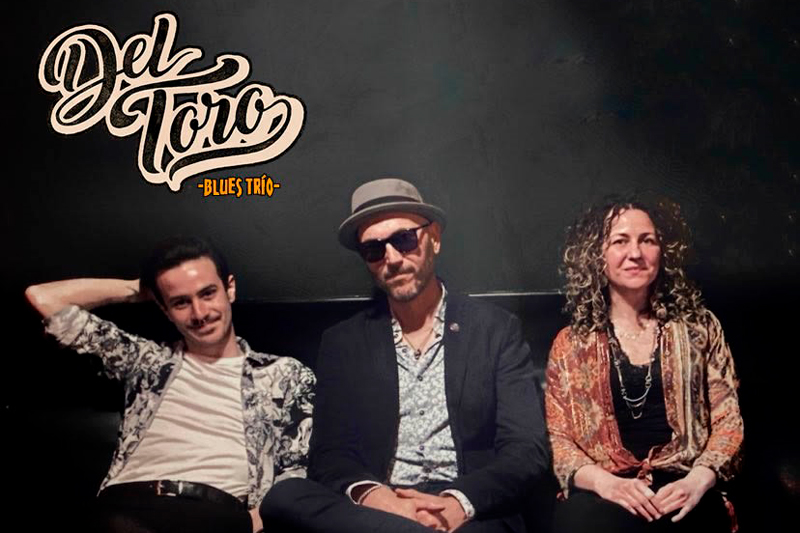 Danny del Toro – harmonica – vocals
Tatiana Firminio – piano
Fiz Novoa – drums
Del Toro Blues trio was born from the hand of harmonica player Danny del Toro. Currently, they are one of the most consolidated bands in the European circuit, since in addition to their show, they accompany in their European tours outstanding and award-winning international artists.
Reviews of Danny del Toro by important international media:
Best Acosutic artist & Best Acoustic cd 2019(UK)
Blues Matters "Killer Harmonica"
Music Republic "Magazine "World Class Blues Harp"
Pete Feenstra "Booming big tone harp tone"
RnR Magazine "Expert Blues musician" "highly enjoyable"
Fernando Sangüesa – tenor sax
Santi Cañada – trombone
Iván Sangüesa – piano
Fernando Lupano – double bass
Pier Bruera – drums
His music combines the essence of blues, swing, funk, and Latin rhythms, pleasing both jazz lovers and fans of other styles. The fundamental characteristic of this band is the intense communication with the audience during their concerts, making them participants of their music at all times.
JUANMA BARROSO QUARTET
NAS
Maikel Vistel – sax
Germán Kucich – piano
Toño Miguel – double bass
Juanma Barroso – drums
Juanma Barroso has been through all these musical scenarios by experience and age, with more than thirty recordings as accompanist and the fourth as leader: NAS.
He has trained in Spain and New York with Al Foster and Ben Riley, as well as accompanied luminaries such as Frank Lacy, Doug Raney, Phil Woods, Eddy Henderson, Sonny Fortune, Pedro Iturralde or Bobby Martinez among others. All this is in the album: from Victor Lewis to Led Zeppelin, passing through Herbie Hancock – magnificent I Have a Dream – or Bill Evans – Very Early – as well as his own compositions, powerful hard bop very transformed in atmospheres and sonorous atmospheres that make them more complex and current.
María Parra – piano
Miguel Rodrigáñez – double-bass
Gonzalo Maestre – drums
For pianist María Parra, music is a constant challenge. After many years dedicated to perfecting her style in the wake of classical composers, she found herself when she decided that happiness came from expressing her most intimate emotions through her own compositions. Thus Vision, his first work with his own works, was born. While he showed his most classical side, he studied and recreated himself in the intimacy of jazz, which he perfected during his years at the Taller de Músicos de Barcelona. The challenge was to transfer his vision of music to jazz improvisation, accompanied by two fellow travelers who form one of the most solid rhythmic bases of the national jazz scene, double bassist Miguel Rodrigáñez and drummer Gonzalo Maestre.
PEDRO OJESTO QUARTET
FEAT ROMÁN FILIÚ
Pedro Ojesto – piano
Román Filiú – sax
Josemi Garzón – double bass
Guillermo McGill – drums
In this quartet format, in which Pedro Ojesto has been working for many years, is where we can hear the most jazzy version of his music. But without losing sight of his career, in which we have always been able to hear a new step in the path of development that jazz is currently experiencing in its fusion with flamenco, influenced by the most current trends of these two languages and without losing sight of the roots of both musics, but this time oriented towards the most avant-garde trends of jazz.
The repertoire is based on new original songs with which the group is preparing new recordings, mixed with some songs from the latest works with Flamenco Jazz Company, in a jazz version, and also with songs recovered from previous works adapted to this new formation, as well as some adaptations of jazz standards, and popular in general, translated into their own defined language, which could be classified as "Jazz-Jondo".