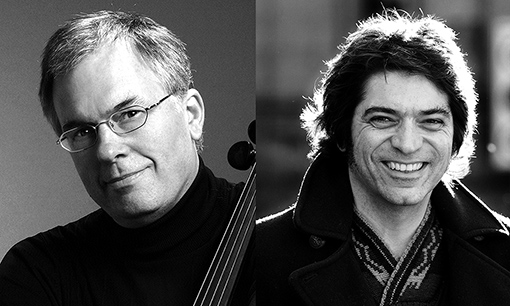 September 14-16 (Friday through Sunday)
FRED MARTINS & JED BARAHAL

This season at Café Central Madrid, Fred Martins of Brazil and Jed Barahal of the U.S. will perform some of the most popular songs from Fred Martins' repertoire, along with classic pieces by Tom Jobim, Vinícius de Moraes, Baden Powell and Alain Ouman. The percussionist Jose San Martin will appear as a guest musician.
"Fred Martins is an original composer who creates an unusual, interesting and poetic universe. As a performer, it is always wonderful to hear his music." (Ney Matogrosso)
The talent of the composer, instrumentalist and singer Fred Martins was recognized at the VISA Award for Brazilian Music, in which he received the top prize by unanimous vote of the jury and public. With seven albums released to date, Fred Martins is promoting the DVD A Música é Meu País (Canal Brasil/Setesóis/Tratore). In 2016, he released the CD Para Além do Muro do Meu Quintal (Más allá del Muro de mi Jardín). Highly regarded by critics, this album received five stars and was named as one of the year's best by the Portuguese magazine Blitz (http://blitz.sapo.pt/principal/update/2016-12-27-Melhores-do-Ano-BLITZ-musicas-do-mundo–e-arredores-). His arrangements have been performed by artists along the lines of Ney Matogrosso, Adriana Calcanhoto, Zélia Duncan, Maria Rita, MPB4, Renato Braz, Regina Machado, Susana Travassos and more. Another interesting milestone in Fred's career is his involvement as a composer and performer in the show Utopía (inspired by Oscar Niemeyer's work), by the María Pagés Flamenco Company.
"Fred Martins is a first-rate composer, if not one of the best in this day and age" – João Pimentel, O Globo
With a career that spans 30 years, the concert performer Jed Barahal holds a master's degree in Music from Yale University and a bachelor's degree from the Juilliard School in New York. Throughout Portugal, the United States, Brazil and other countries, he has performed widely as a soloist (and with orchestras), as a recitalist, and in chamber music. He was first cellist of the São Paulo State Symphony Orchestra, the Orchestre National du Capitole de Toulouse and the Oporto Orchestra (Régie Sinfonia). During the ten years he resided in Brazil, he was recognized as one of the most outstanding cellists. He was first cellist of the Orquesta Armorial, the Paraiba Symphony Orchestra and the São Paulo State Symphony Orchestra. He has performed widely as a soloist with virtually every important orchestra in the nation.
Of the countless recordings made throughout his career, a commemorative CD released in 2006 stands out. This album contains works by Fernando Lopes Gracia and Luís de Freitas Blanco, in collaboration with the pianist Christina Margotto, his duet partner for more than 20 years. He teamed up with the Orquesta Raíces Ibéricas to record the Boccherini Concertos in D Major (Numérica, 2007) and G Major (Numérica, 2011). He regularly teaches cello seminars in Europe and Brazil, and is frequently asked to serve on juries for international and national competitions. He is also an associate lecturer at the Oporto College of Music and the Performing Arts (Escola Superior de Música e Artes do Espectáculo do Instituto Politécnico do Porto).
Fred Martins – guitar, vocals
Jed Barahal – cello
José San Martín – percussion Every night at 9:00 PMTicket prices: €16 General admission €12 Reduced admission