Reservations for concerts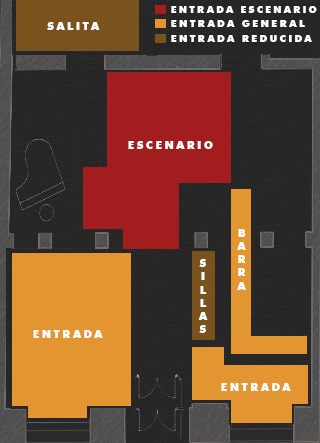 You can buy your tickets 24 hours a day through our page.
If you prefer to do so by telephone, at 913694143, the schedule is:
from 6 p.m. to 8 p.m. from Monday to Sunday
Due to the characteristics of the venue, tables are shared during the show. We make reservations for groups in the Salita Zone next to the stage with reduced price.
You can book for any concert announced on our website.
The rest of the days appear as not available until we update the program.
It is not necessary to print the confirmation or entry email, only an identification, for example the D.N.I., of the person who purchased the locations is necessary.
Tickets are valid only for the day and concert that have been reserved and until 9:10 p.m. that is, 10 minutes after the start of the show, after that period all rights to them are canceled.
Once the locations are purchased, changes, refunds or cancellations are not allowed. The suspension of the show is the only admissible cause for the refund of the amount of the locations.
Thank you for your support of live music