La cocina
Además de ofrecer unos deliciosos y económicos desayunos, al mediodía un estupendo menú con platos de comida sana y sabrosa, en la noche tenemos una carta muy variada que ofrece platos para picar, compartir y cenar.

Menú al mediodía
A elegir entre tres "primeros"
(sopa o crema, ensalada, verduras)
(carne, pescado, plato vegetariano)
Postre casero

Pan y bebida
Horarios y precios del menú al mediodía
Lunes a Viernes de 13:30 a 16:15h
13,00€
Sábados y Domingos de 13:30 a 16:30h
16,00€
Lunes a Viernes de 13:30 a 16:15h
13,50€
Sábados y Domingos de 13:30 a 16:30h
16,50€

---
Carta de comida
Entrantes
Tabla de cuatro quesos: manchego, idiazábal, camembert y gorgonzola

13,85 €

Table four cheeses: Manchego, Idiazabal, Camembert and Gorgonzola

Ración de jamón ibérico

20,80 €

Ration ham

Ración de lomo ibérico

13,85 €

Ration loin iberian

Croquetas caseras de jamón ibérico (6 unidades)

9,25 €

Iberian ham homemade croquettes

Sopa del día

5,90 €

Soup of day
Ensaladas
Ensalada verde con queso gorgonzola, manzana y nueces

15,70 €

Green salad with gorgonzola cheese, apple and nuts.

Ensalada mixta con aguacate y huevo cocido

12,95 €

Mixed salad with avocado and hard-boiled egg

Ensalada de tomate con ventresca y cebolleta

12,40 €

Tomato salad with tuna and spring onions
Pescados*
Salmón a la plancha con crema de eneldo y nueces

12,40 €

Grilled salmon with dill cream and nuts
* El pescado que se sirve en este establecimiento ha sido previamente congelado al menos 24 horas.
* Fish that served in this establishment has been previously frozen at least 24 hours.
Carpaccios
Carpaccio de solomillo de ternera con apio, rúcula, alcaparras y parmesano

18,50 €

Veal sirloin with celery, rocket, capers and parmesan
Carnes
Entrecot a la parrilla con patatas

18,65 €

Grilled rib-eye-steak with potatoes

Filete de pollo al curry de madrás

10,55 €

Fillet of chicken madras curry
Pinchos y tostas frías
Capresse (tomate , queso mozzarella y albahaca)

BARRA: Pinchos – 2,25 € ; Tostas – 4,80 € // SALA y TERRAZA: Pinchos – 2,50 €; Tostas – 5,00 €

Capresse (tomato,mozzarella chesse and basil)

Jamón

BARRA: Pinchos – 2,25 € ; Tostas – 4,80 € // SALA y TERRAZA: Pinchos – 2,50 €; Tostas – 5,00 €

Ham

Queso gorgonzola con nueces

BARRA: Pinchos – 2,25 € ; Tostas – 4,80 € // SALA y TERRAZA: Pinchos – 2,50 €; Tostas – 5,00 €

Gorgonzola cheese with nuts
Pinchos y tostas calientes
Setas salteadas con jamón ibérico

BARRA: Pinchos – 2,25 € ; Tostas – 4,80 € // SALA y TERRAZA: Pinchos – 2,50 €; Tostas – 5,00 €

Sautéed mushrooms with ham

Salmón y queso brie

BARRA: Pinchos – 2,25 € ; Tostas – 4,80 € // SALA y TERRAZA: Pinchos – 2,50 €; Tostas – 5,00 €

Salmon and brie cheese
Tosta especial
Sandwich Colina

9,25 €

Sandwich´s Colina (sauce of piquillo peppers, ham, mayonnaise, lettuce and a mixture of sausage, dates and walnuts)

Hamburguesa "Don Pedro"

12,00 €

"Don Pedro" Burger (200 grs. of Wagyu [kobe], bacon, cheddar cheese, lettuce, onion and tomato)

Sandwich Club "Central"

9,25 €

Sandwich´s Club Café Central (beef, bacon, mushrooms, cheese, boiled egg, lettuce, tomato, asparagus)

Sandwich Montoliu

9,25 €

Sandwich´s Montoliu (guacamole with rocket, smoked salmon, cream cheese and caviar)
Postres caseros
Crepes de dulce de leche

3,20 €

Crepes with sweet milk

Flan de coco

4,85 €

Coconut custard

Tarta de chocolate

4,85 €

Chocolat cake

Tiramisú

4,85 €

Tiramisú

Tarta de queso

4,85 €

Cheese cake

Crepes de crema de nutella

3,20 €

Crepes with cream of chocolat and nuts

Crepes de crema con salsa de frutos del bosque

3,20 €

Crepes with cream and sauce of fruit forest
Horario general de apertura del local:
Lunes

De 13:00h a 02:30h

Martes

De 13:00h a 02:30h

Miércoles

De 13:00h a 02:30h

Jueves

De 13:00h a 02:30h

Viernes

De 13:00h a 03:30h

Sábado

De 12:00h a 03:30h

Domingo

De 12:00h a 02:30h
Contacte con nosotros: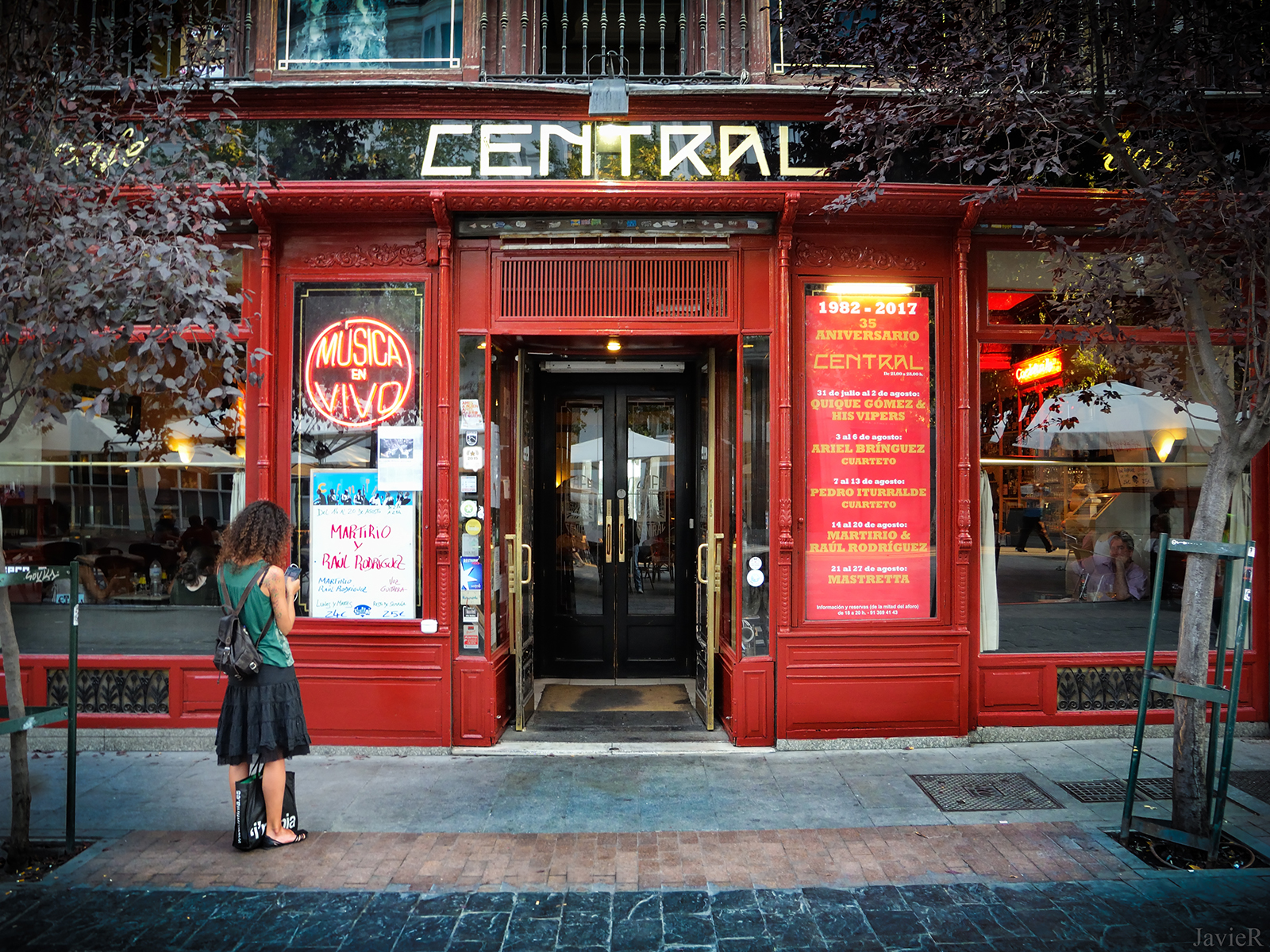 Dirección: Plaza del Ángel 10, 28012 Madrid. Teléfono: 91 369 41 43
Nuestro facebook: Café Central - Madrid info@cafecentralmadrid.com
Dónde estamos:
Twitter